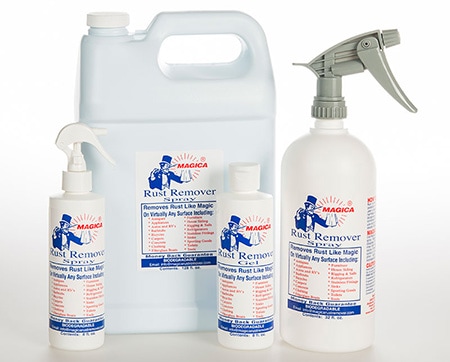 Regardless of how meticulously you care for your property and possessions, there's always a possibility that you will have issues with rust development. Rust can cause discoloration, deterioration and irreversible damage if it's not handled proactively, so it's important that you're always prepared to fight back against rust with the right rust remover product. At Magica, Inc., we stock a variety of rust remover products so you can find the one that's perfect for your needs. Read on to find out more about our Magica gel and Magica spray so you can select the option that works best for you.
Magica gel
When we first began manufacturing rust removal products back in 1988, we only made a rust removal gel. This gel was very popular for its amazing ability to clean rust stains from virtually any surface. The gel was ideal for spot cleaning smaller rust stains, especially in clothing and upholstery. The thick formula was easy to control for accurate and effective rust removal treatments. The gel gives users the convenience of a travel-size rust removal product that can be stored just about anywhere. It's a great product to have on hand to treat small rust stains.
Magica spray
Following the popularity of our Magica gel, we began getting requests from customers for larger quantities of our product. With this in mind, we created our Magica spray in the 1990s, a product that came in larger quantities for bigger rust stain problems. The consistency of the Magica spray makes it easy to use for larger stains. This product comes in eight- and 32-ounce bottles so our customers can stock up on the rust removal products they love in an easy-to-use spray form. We also offer a gallon-size bottle that can be used to refill our smaller Magica spray bottles.
Finding the perfect rust remover
The right Magica rust remover for you depends on your particular needs. If you find yourself having to deal with occasional rust staining on your clothes or furniture, our Magica gel is an excellent option. You can store this product with your household cleaners so that you always have a powerful rust removal product on hand when you need it.
If you deal with large rust stains on your siding, concrete or tools, on the other hand, you're probably better off with our Magica spray. This product can be applied quickly to a large area and packs the same stain-fighting punch as our Magica gel. If you have experience with large and small rust staining alike, consider investing in both our gel and our spray rust removal products.
Regardless of what your needs may be when it comes to rust removal, Magica, Inc. has you covered with highly effective rust remover products in gel and spray forms. Our products are capable of lifting rust stains from virtually any service, including concrete, fabric and tools. We have been providing our customers with outstanding rust removal products for 30 years, and we continue to be dedicated to the quality of our products and our customer service. Shop our selection of products online or give us a call for further assistance with selecting a rust remover product!