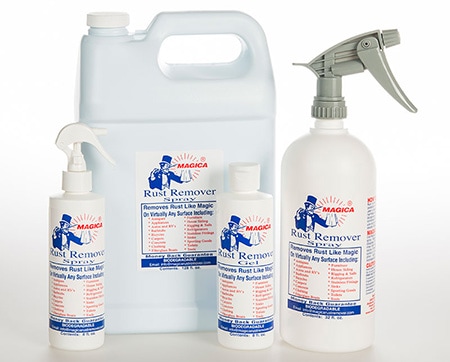 It may be called "stainless" steel, but don't let the name deceive you—it's still absolutely capable of getting stained by rust.
Stainless steel is quite resilient and hardy and, yes, very resistant to stains, which is one of the biggest reasons why it's so commonly used in household items from sinks to silverware. It is a type of iron alloy that contains about 10 percent chromium, and this chromium film that covers its surface is what makes it so resistant to rusting and tarnishing.
However, if the chromium film is removed or chips away, the product can rust like any other type of iron-based metal. Pots and pans are highly susceptible to this because of how much they get banged around in the kitchen over the years.
This doesn't just affect tools and utensils in your house—stainless steel is also used in many industrial applications and architectural structures, thanks to its strong corrosion resistance and ability to withstand atmospheric condition changes. The problems you have with rusting could become more severe, depending on the scale and size of the stainless steel application.
Fortunately, there are ways to remove rust stains from stainless steel. Our Magica Rust Remover works great on all types of stainless steel, including those hard-to-reach areas like thread hardware on standing rigging and lifeline. If you've got kitchen utensils, tools or other stainless steel hardware that has rust on them, you can make them look like they're brand new simply by using Magica.
Applying Magica to the stained area
We've made Magica Rust Remover as easy to use as possible, so you can get the rust out of any type of material that's been stained by it. Simply apply Magica on the rust stain, and it will be gone within seconds! Magica removes all types of rust stains without having to use harmful acids to get the job done, making it safe and more environmentally friendly than other rust removal products.
Magica comes in a convenient spray or gel formula, and is gentle enough to use on just about all materials—even fabric. Simply apply or spray a little bit of Magica on top of the stain. After waiting a few minutes for Magica to set in and do its job, the stain should disappear—you don't have to scrub, rub or blot at all! After the rust disappears, simply rinse the area with fresh water, and you're all done. However, if the area is heavily stained, you may need to apply Magica a second time. If the stain doesn't disappear, it's probably not rust you're dealing with.
Remember—"stainless" doesn't necessarily mean truly stainless when we're talking about stainless steel. There's still the chance it could be affected by rust stains. Therefore, it's helpful to have a couple bottles of Magica on hand to keep your stainless steel hardware, tools and appliances looking fresh and clean at all times.
For more information about our Magica Rust Remover, we encourage you to contact Magica, Inc. today.